Why would we have to choose between SamBox.io and other SAM Tools?
Actually, SamBox.io does not aim at replacing one large existing SAM tool like Flexera Flexnet, Snow software SLM or Aspera SmartTrack. As previously mentionned, here, our approach is to make a deep dive on some selected SW products, and bring to the customers 3 key benefits on that SW:
Self Service
Accuracy
Savings
That being said, we better understand why it is interesting to have the best of breed and run SamBox.io on top of these large SAM tools.
First immediate benefits is that SamBox.io assesses a calculation previously made by your SAM Tool. Because you do not need to set any licensing rule into SamBox.io (by default embedded by our consultants), SamBox.io will immediately identify the possible discrepancies between what we consider to be the licensing rule, and how FlexNet or SmartTrack calculates. We should theoretically have the exact same view of the situation, but reality is that some rules need to be set by the intergrator into the large SAM Tools, and that may end up with differences like:
The taking into account license mobility
The taking into account contamination effect for Oracle
The taking into account Hybrid Use Benefits
The taking into account minima rules into Azure or AWS…
Second benefit is that SamBox.io will better highlight the data quality. Thanks to its data quality analysis engine, managed on a product family basis, possible anomalies or incoherence that would have been drown in multiple inter-editors KPI, we remain focused on the product licenses we want to perform an analysis on. You can then easily fix the problems at the root, directly into your SAM Tool.
Finally, SamBox.io optimizes the calculation. For large perimeter where we have heteregeneous types of licenses, it is almost impossible to correctly and manually allocate licenses to servers because it is tool long and complicated. Unfortunately, large SAM tools do not have the smart dynamic license allocation feature which prevent customers from reaching a low compliance position point without further help. Thanks to our optimization engine, we are able to find that optimum, and then re-inject the allocation scheme into the SAM tool. Concretely, we do not expect customers to look into two different SAM tools at the same time, depending on the SW products they currently manage. SamBox.io can be seen as a backend tool on top of the main one.
How does that work?
A graph is often better than a long text : there it is.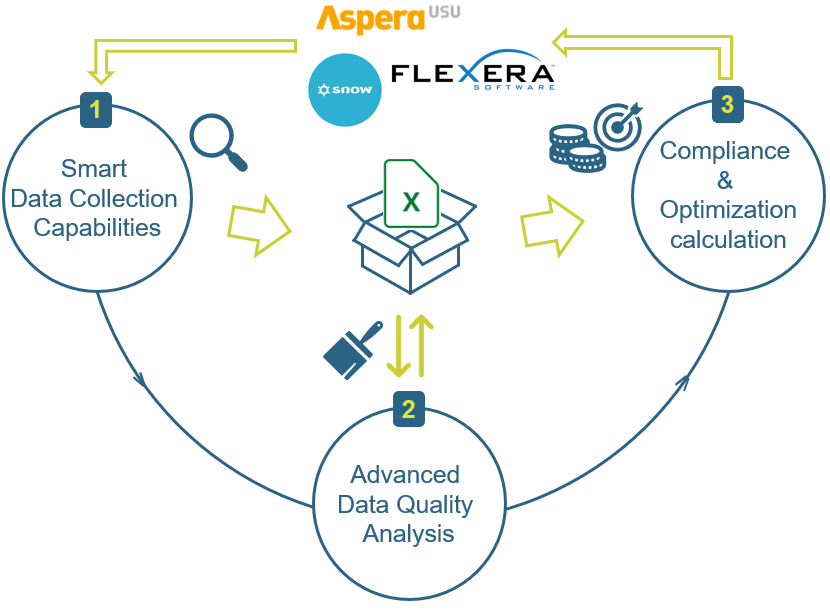 Everytime we want to assess the results, improve data quality, and optimize the compliance position, we realize that forth and back process as described below: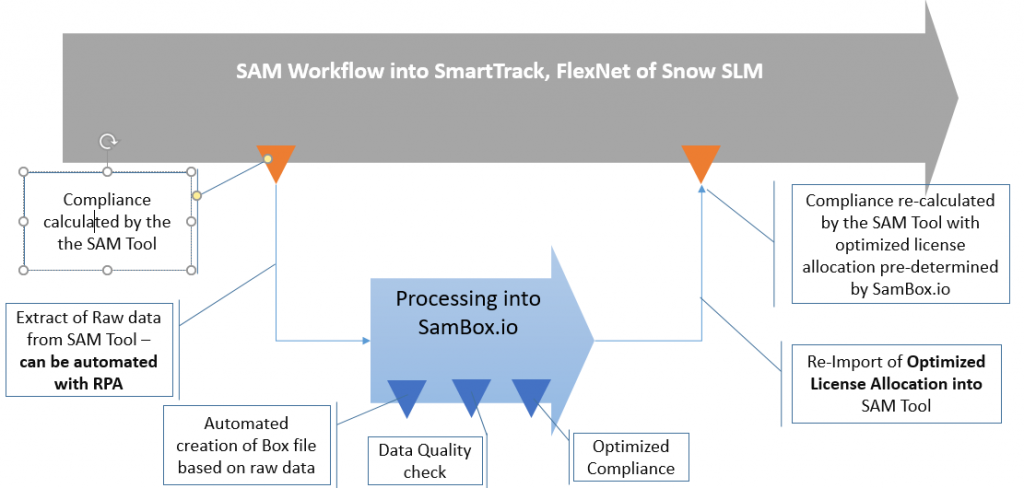 Whether you want to do it once a year, or once a month, such a process can easily be fully automated, either through API like with Snow SLM, XML with Aspera SmartTrack, or even Robotic Process Automation with Flexera FlexNet:

And what is the result in the end?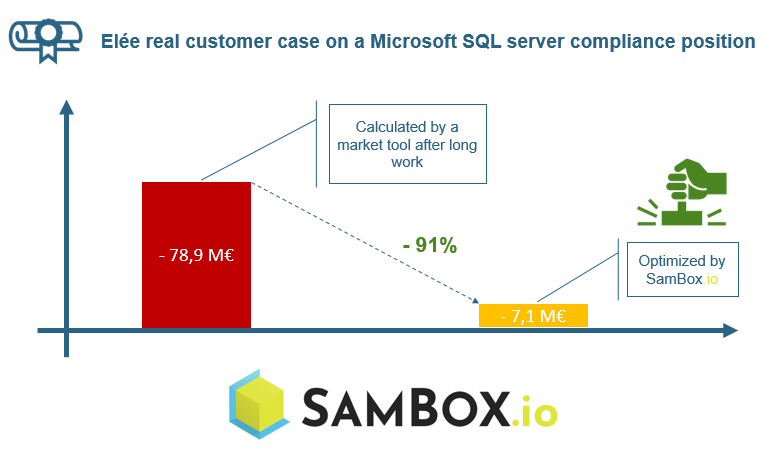 For real.